Pipe Flow Advisor Software License Costs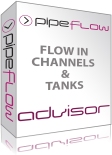 Users in over 65 countries worldwide choose Pipe Flow Advisor :
It's a great utility for calculating flow in open channels and tank emptying times.
Our Pipe Flow Advisor Software is an easy-to-use utility program that can calculate the flow rate of water under gravity in open channels on a slope. It also calculates capacity, weight and volume of fluid within different shaped channels and different shaped tanks, and it can estimate the time taken for a tank to empty with flow under gravity.
Purchasing Options
Download & Install then Purchase Online & Get Licensed in < 2 minutes.
All prices are shown in British Pounds [GBP] with approximate US Dollar [USD] prices in brackets.
Currency: £1.00 GBP converts to approximately $1.30 USD or €1.20 Euros
Single User License - Download Version:
There are no general support costs associated with Pipe Flow Advisor and the license does not expire. There is a method of moving the Advisor software to a new computer. First you must de-activate the current license using the Unregister Program options from within the software, which generates a removal-confirmation number. This can be emailed to us, together with the product code from a new installation and we will then email back a new license code.
Multi User Network Licenses
We do not provide a network version of Pipe Flow Advisor. if you require multiple copies of the software then please email us and we will provide you with a best price quote.