Pipe Flow Wizard Software License Costs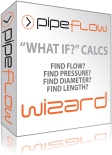 Users in over 100 countries worldwide choose Pipe Flow Wizard :
Simple Interface. Easy-to-use. Amazingly useful calculations on a single length of pipe.
We know the value of our Pipe Flow Wizard Software, with it being the first point of call for all 'What If' type of calculations on single length of pipe. It's a great utility program that's priced to make it an easy purchase.
Purchasing Options
Download & Install then Purchase Online & Get Licensed in < 2 minutes.
All prices are shown in British Pounds [GBP] with approximate US Dollar [USD] prices in brackets.
Currency: £1.00 GBP converts to approximately $1.30 USD or €1.20 Euros
Single User License - Download Version:
There are no general support costs associated with Pipe Flow Wizard and the license does not expire. There is a method of moving the software to a new computer. First you must de-activate the current license using the Unregister Program options from within the software, which generates a removal-confirmation number. This can be emailed to us, together with the product code from a new installation and we will then email back a new license code.
Multi User Network Licenses
We do not provide a network version of Pipe Flow Wizard, however we can provide network type pricing and we would we happy to provide you with a best price quote for running multiple individual copies of the Pipe Flow Wizard software.