Add your company name and logo to the Convert 123 Software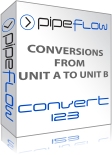 Giving away useful software for free that contains your company name, logo and link to your web site is a great way to promote your business, brand and increase traffic to your web site.
We use this promotion technique ourselves, giving away Convert 123 with our Pipe Flow branding on, with it being free for the user to download and use.
Now you too can do the same, if you purchase a customized copy of Convert 123 which contains your company name, logo and web address (with our branding removed).
Add your logo - How it works
For a small license fee, we will produce a customized copy of Convert 123, where we replace our Pipe Flow branding with your company's branding. We will also include a web link such that when someone runs the software it says 'Convert 123 provided by www.YourWebAddress.com' and it has your logo graphic alongside.

You supply us with a 350x65 pixel graphic that contains your company logo and message (the design of the graphic is completely up to you) and we will include it into a special build of the Convert 123 software that is customized just for you (includes a professional self extracting installation executbale that is perfect for putting on your web site so that visitors can download and install it with just a few clicks).
Royalty Free Distribution of Convert 123 with Your Logo
Once you have paid the one-off license fee, which also covers the cost of producing your customized version of Convert 123 with your branding on, then you are free to distribute your copy of Convert 123 for free, without paying any royalties.

For the small license fee, the royalty free distribution of useful software with your name on it, really does provide a cost effective way of marketing your business and bringing customers to your web site (people love getting things for free, especially useful software, and everybody needs to do unit conversions, whether they are just baking a cake from a recipe or whether they are a hardcore engineer that performs many calculations everyday.